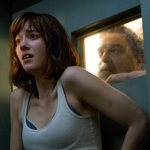 A couple weeks ago I reviewed that movie ROOM and even though it was a world class best picture nominee type of movie I said it should have DTV sequels like the similarly locationally limited indie CUBE did about a decade back. It could just be another story about another room that people are stuck in. Well, little did I know that they'd do something like that but it would be released theatrically and it would be a J.J. Abrams (JOY RIDE) production, not called ROOM2 or ROOM: REDEMPTION but 10 CLOVERFIELD LANE.
That title may make you think it's gonna feature Cloverfield, the popular lasagna swilling, Monday-hating, Nermal, Odie and Jon abusing asshole giant monster character from Matt Reeves's Abrams production CLOVERFIELD, but it's not. It's also not done in found footage style, instead it's modeled after the look of a professional movie. It would've been cool if there was a part where T.J. Miller runs by with a camcorder, but I think the title is just a coincidence. It's kinda like how Rob Cohen directed DRAGON: THE BRUCE LEE STORY, DRAGONHEART and THE MUMMY: TOMB OF THE DRAGON EMPEROR, but those aren't necessarily a trilogy in my opinion.
So no, this one is more like ROOM, but with a different lady in a different room with a different skylight and a different idea about the world outside. Mary Elizabeth Winstead (ABRAHAM LINCOLN: VAMPIRE HUNTER) plays Michelle, who in a silent prologue is seen abandoning her husband or fiancee (we never see him, but his telephone voice is Bradley Cooper [THE MIDNIGHT MEAT TRAIN]). Then she gets in a car accident out in the boonies and wakes up in a strange room with an I.V. drip and a leg brace. This doesn't look like a hospital though, mainly because she's on a mattress on the floor, and the door is like a vault, and also she's shackled to a pipe, and she doesn't even have a call button in case she needs a nurse to help her go to the bathroom. (read the rest of this shit…)
VERN has been reviewing movies since 1999 and is the author of the books SEAGALOGY: A STUDY OF THE ASS-KICKING FILMS OF STEVEN SEAGAL, YIPPEE KI-YAY MOVIEGOER!: WRITINGS ON BRUCE WILLIS, BADASS CINEMA AND OTHER IMPORTANT TOPICS and NIKETOWN: A NOVEL. His horror-action novel WORM ON A HOOK will arrive later this year.