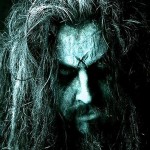 If you ever saw THE HOUSE OF 1,000 CORPSES, there's one thing you probaly remember. It's this montage set to "I Remember You" by Slim Whitman. It's got lots of slow motion and you can't hear anything but the music as the cops discover a couple of the house's thousand corpses unexpectedly, then get gunned down by the Firefly family. The montage ends with Otis (Bill Texas Chain Saw Massacre 2 Moseley) holding a gun to a cop's head and it sits there with 20 full seconds of complete silence and stillness before he executes him.
That movie was pretty good, I liked it overall for it's spunk and what not, but it was real sloppy and uneven. And that "I Remember You" scene was the one part where the director, a guy named Rob Zombie (yeah I know, I think it's Hungarian or something), seemed like a real filmatist. Well good news, Mr. Zombie's new one THE DEVIL'S REJECTS is not as much a sequel to HOUSE OF 1,000 CORPSES as it's a sequel to that scene. It's about the brother of the first cop killed in the montage hunting down the Fireflies for revenge. And all the sudden the Zombie guy knows what the fuck he's doing: real good framing, way better acting, expert use of slow motion and effective montagings edited to old country music, blues and classic rock. Very dirty and raw, lots of '70s techniques like Peckinpah slo-mo and fancy wipes. Kind of what Jim Van Bebber was going for with THE MANSON FAMILY. Maybe not quite as authentic but way better thought out and more involving. It's almost changed genres – now it's less straight up horror and more of one of those sicko '70s serial killer/crime/road pictures, or a revenge picture like LAST HOUSE ON THE LEFT. It's just as sick and inexcusable but more fun. (read the rest of this shit…)
VERN has been reviewing movies since 1999 and is the author of the books SEAGALOGY: A STUDY OF THE ASS-KICKING FILMS OF STEVEN SEAGAL, YIPPEE KI-YAY MOVIEGOER!: WRITINGS ON BRUCE WILLIS, BADASS CINEMA AND OTHER IMPORTANT TOPICS and NIKETOWN: A NOVEL. His horror-action novel WORM ON A HOOK will arrive later this year.