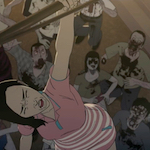 By now most horror fans have experienced or heard about the greatness of TRAIN TO BUSAN, the 2016 South Korean fast-zombie-plague movie. If you're in the latter category, I know it's easy to believe the hype but still feel no urgency to see it, because yeah, I get it. Zombies on a train. So I'll just say again that while it's impressive that it made me think "Okay, it turns out I do want another fucking zombie movie," the real achievement is making me so attached to the characters and attuned to the tragedy of their horror movie circumstances that I produced actual tears near the end. Have I ever cried from a horror movie before? Not that I remember.
When I went to write the review I was surprised to learn that writer/director Yeon Sang-ho's previous movies were all animated. He'd been doing animated shorts since the '90s, before the features KING OF PIGS (2011), THE FAKE (2013). Even more interesting, TRAIN TO BUSAN is sort of a sequel or tie-in to an animated feature called SEOUL STATION that Yeon did immediately before it. I didn't realize it had come out in the U.S. until I noticed it streaming on Shudder. (read the rest of this shit…)
VERN has a new action-horror novel out called WORM ON A HOOK! He has been reviewing movies since 1999 and is the author of the film criticism books Seagalogy: A Study of the Ass-Kicking Films of Steven Seagal and Yippee Ki-Yay Moviegoer!: Writings on Bruce Willis, Badass Cinema and Other Important Topics as well as the crime novel Niketown.