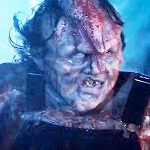 VICTOR CROWLEY is part 4 of the HATCHET series. Despite the title it's not any kind of a reboot or a prequel or anything. Part I-II director Adam Green made it secretly and surprised fans with it at an event advertised to sound like a tenth anniversary screening of the first one, and it's very much designed as a fun time for dedicated fans of the series and the people who buy t-shirts of Green's dog  and stuff.
So the fact that I didn't love it shouldn't scare fans off, because it's not really for me. I really liked part III, a final girl vs. slasher standoff cranked up to 11. This is more in the tradition of parts 1 and 2, with the quirky character business, broadly cartoonish performances and occasional over the top chopping and splattering of bodies, done with a scream and a wink. Also you got your cameos by horror people, though some of them just in cell phone footage this time. (read the rest of this shit…)
VERN has been reviewing movies since 1999 and is the author of the books SEAGALOGY: A STUDY OF THE ASS-KICKING FILMS OF STEVEN SEAGAL, YIPPEE KI-YAY MOVIEGOER!: WRITINGS ON BRUCE WILLIS, BADASS CINEMA AND OTHER IMPORTANT TOPICS and NIKETOWN: A NOVEL. His horror-action novel WORM ON A HOOK will arrive later this year.