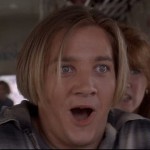 I never did write a real review of the popular Danny Boyle picture 28 DAYS LATER, just a little blurb in a summer recap column. To make a short story stay short, I liked it but did not understand the hooplah. It seemed to me most of it had already been done in Romero's movies, and I liked it better when it was a real movie instead of a home video. So I was kind of annoyed by all the hype at the time that Boyle had "reinvented the zombie movie." Even the controversial running zombies were straight out of RETURN OF THE LIVING DEAD. Somebody give Dan O'Bannon some credit. When he did that in 1985 it was a clever new take on zombies.
But I gotta tread carefully here because there are people out there who will flip out if you use the word "zombie" to describe the zombie-like people doing zombie things in this movie that is clearly based on the zombie films of George Romero. Zombies, it turns out, are people who die and then come back to life as zombies. They are not people who are infected and become zombies, unless they are infected to the point of death and then become zombies. In the case of these movies they just get infected, they do not necessarily die as far as we know, so they are something else. Nobody knows what it's called, but it's not a zombie. It's just some thing that is exactly like a zombie and has every quality associated with zombies, but you can't call it a zombie, that's like using the N word almost. So I apologize to all the things who are not zombies but are exactly like zombies in all respects but they have not died and therefore are not zombies that I offended in my previous blurb. I will be more sensitive this time. (read the rest of this shit…)
VERN has been reviewing movies since 1999 and is the author of the books SEAGALOGY: A STUDY OF THE ASS-KICKING FILMS OF STEVEN SEAGAL, YIPPEE KI-YAY MOVIEGOER!: WRITINGS ON BRUCE WILLIS, BADASS CINEMA AND OTHER IMPORTANT TOPICS and NIKETOWN: A NOVEL. His horror-action novel WORM ON A HOOK will arrive later this year.