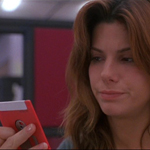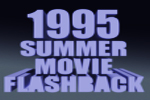 In THE NET, Sandra Bullock (DEMOLITION MAN) plays Angela Bennett, a loner computer expert who becomes The Beta Tester Who Knew Too Much when a colleague stumbles across a backdoor being used to enter major databases and sends her a disk to take a look at.
Bullock spends alot of the movie saying out loud what she's pretending to type. Angela mostly stays indoors, and most of her friends are either software company people in other parts of the country that she talks to over the phone, or people in "Cyberchat." This being 1995, with dial up modems and floppy disks, that was still a pretty new idea, as was her ordering a pizza online (which I would still never do myself in this futuristic age). Of course it's a movie that plays up the exoticism of computers and the internet, and heavily bullshits it up. The backdoor creates a rapid burst of screens of information that computers back then couldn't have handled and that have no possible use except movie flashiness. A virus is instantly identifiable because it turns what's on the screen into little shapes as it quickly destroys the system. Call it the Photoshop Mosaic Filter Virus. So it's a goofy mix of dated technology and not-feasible-at-that-time. (read the rest of this shit…)
VERN has been reviewing movies since 1999 and is the author of the books SEAGALOGY: A STUDY OF THE ASS-KICKING FILMS OF STEVEN SEAGAL, YIPPEE KI-YAY MOVIEGOER!: WRITINGS ON BRUCE WILLIS, BADASS CINEMA AND OTHER IMPORTANT TOPICS and NIKETOWN: A NOVEL. His horror-action novel WORM ON A HOOK will arrive later this year.