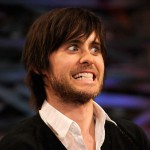 As I have mentioned before I live in Seattle. We are famous for a couple of different people. First of all we got Bruce Lee. When he left China he came here, he went to the University of Washington, he opened up a Jeet Kune Do school. The movie about his life, Dragon: The Bruce Lee Story, largely took place here although they didn't film here because the University of Washington wouldn't give them permission because they wouldn't remove the part about the football team calling him a gook. He and his son Brandon, star of Laserblast, are both buried here.
Then we got Jimi. Jimi grew up here and he's buried here too, although he hated it here and probaly woulda wanted to be buried in London if he had lived long enough to think about that kind of shit. (read the rest of this shit…)
VERN has been reviewing movies since 1999 and is the author of the books SEAGALOGY: A STUDY OF THE ASS-KICKING FILMS OF STEVEN SEAGAL, YIPPEE KI-YAY MOVIEGOER!: WRITINGS ON BRUCE WILLIS, BADASS CINEMA AND OTHER IMPORTANT TOPICS and NIKETOWN: A NOVEL. His horror-action novel WORM ON A HOOK will arrive later this year.