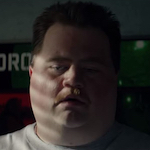 Even before that fake baby in AMERICAN SNIPER, people were talking like Clint Eastwood was some confused old man who doesn't know how to direct a movie anymore. Gotta disagree. I know I'm far from the only one who really enjoyed and was surprised by THE MULE, and now that I've caught up with Clint's latest director-only drama, RICHARD JEWELL, I'm here to tell you that's a good one too. Really good, and to me it's by far the most compelling of what now seems to be a Real American Heroes series with SNIPER, SULLY and THE 15:17 TO PARIS*.
Okay, yeah, so there's a part where kids drinking beer in a dorm room have a poster on the wall that says "Beer 2 Night." Have fun with that one. I didn't notice the fake baby before so maybe there's some in this one, I honestly don't care. It's a fascinating story, it made me laugh, it moved me, it has one of if not the best lead performance of last year. My friends, I have Jewellmania. (read the rest of this shit…)
VERN has a new action-horror novel out called WORM ON A HOOK! He has been reviewing movies since 1999 and is the author of the film criticism books Seagalogy: A Study of the Ass-Kicking Films of Steven Seagal and Yippee Ki-Yay Moviegoer!: Writings on Bruce Willis, Badass Cinema and Other Important Topics as well as the crime novel Niketown.