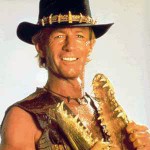 DARK AGE
In my ongoing tribute to the land of MAD MAX and CHOPPER I have come across another good giant crocodile movie that pre-dates ROGUE by a good 20 years. But this one actually has John Jarrat – the widower Russell in ROGUE, the fuckin maniac in WOLF CREEK – as the park ranger hero.
This one reminds me of RAZORBACK a little, because it reminds me of JAWS a little. The director, Arch Nicholson, was second unit director on RAZORBACK, but his movie is in a more realistic vein, less stylized and exaggerated. The crocodile never runs through the side of a house and steals a baby like the razorback did. The photography is pretty naturalistic, it's by Andrew Lesnie whose name seems familiar because he did the LORD OF THE RINGS movies, the BABE movies, and I AM LEGEND. (read the rest of this shit…)
VERN has been reviewing movies since 1999 and is the author of the books SEAGALOGY: A STUDY OF THE ASS-KICKING FILMS OF STEVEN SEAGAL, YIPPEE KI-YAY MOVIEGOER!: WRITINGS ON BRUCE WILLIS, BADASS CINEMA AND OTHER IMPORTANT TOPICS and NIKETOWN: A NOVEL. His horror-action novel WORM ON A HOOK will arrive later this year.