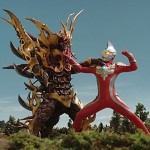 (Originally posted at Ain't-It-Cool-News: http://www.aintitcool.com/node/20335)
SPOILER ALERT !!
Hey folks, Harry here… I hate Vern… he see MAN IN SUIT first! I hate Moriarty… he see MAN IN SUIT firster! I wanted to see MAN IN SUIT firstest!!! ARGHHHHHHH!
Boys –
I don't know if you've heard the news yet but apparently Godzilla is retiring. I know, I thought it sounded kind of sudden too, but according to the Toho Studios over there in Japan – actually they probaly never said this, but it was reported in magazines here so we'll pretend it's true – this is ABSOLUTELY gonna be the VERY LAST Godzilla movie. EVER. The final chapter. The final nightmare. I don't see how they could ever go back on their word on something like that, so they will probaly just have to start making domestic dramas, or find some new young and edgy giant monster, start him off small and hopefully build him up until all the kids are like, who the fuck is Godzilla? Sounds lame to me, just a ripoff of (new more extreme giant monster from Toho studios). (read the rest of this shit…)
VERN has been reviewing movies since 1999 and is the author of the books SEAGALOGY: A STUDY OF THE ASS-KICKING FILMS OF STEVEN SEAGAL, YIPPEE KI-YAY MOVIEGOER!: WRITINGS ON BRUCE WILLIS, BADASS CINEMA AND OTHER IMPORTANT TOPICS and NIKETOWN: A NOVEL. His horror-action novel WORM ON A HOOK will arrive later this year.