A Very Tape Raider Christmas
THE BRAIN is a 1988 sci-fi horror movie that takes place around Christmas time. That's not an important part of the plot, but there are Christmas decorations at the beginning, "Jingle Bells" plays (and then ominously slows down) on a car radio, a pot of poinsettias gets shot by police during a chase scene, I noticed a sign in the school for a dance or something with the theme "Cosmic Christmas," and there's some snow on the ground. Also the movie itself is kind of a Christmas gift to me because it's pretty good and its weird vibe and gooey special effects warmed my heart like I imagine a yule log would if I had ever experienced a yule log in person.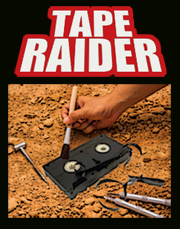 First and most important order of business is to assure you that the title and cover art are not misleading. Though it was made during the height of slasher sequels and shows a strong A NIGHTMARE ON ELM STREET influence, it is indeed a movie about, as the hero calls it, "that brain monster thing that's killing everyone." And they show it right at the beginning – a big slimy pulsating brain with a tentacle/spine hanging out like a tail, hooked up to some machines in a lab at the Psychological Research Institute (PRI). I think it was wise to establish that we're dealing with arguably a goofy '50s drive-in movie throwback before the first big scare sequence and not after. Pull that Band-Aid right off. (read the rest of this shit…)
VERN has been reviewing movies since 1999 and is the author of the books SEAGALOGY: A STUDY OF THE ASS-KICKING FILMS OF STEVEN SEAGAL, YIPPEE KI-YAY MOVIEGOER!: WRITINGS ON BRUCE WILLIS, BADASS CINEMA AND OTHER IMPORTANT TOPICS and NIKETOWN: A NOVEL. His horror-action novel WORM ON A HOOK will arrive later this year.