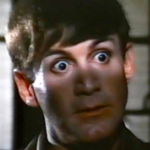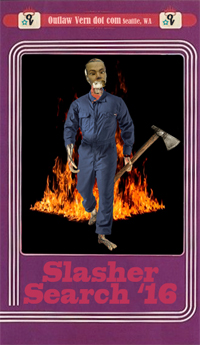 a.k.a. AN EYE FOR AN EYE
In my experience as a slasher searcher I've found that unknown movies from the '70s are the biggest risk because 1) it's mathematically less likely that there's a great one you've never heard of and  2) they were made before the slasher formula really set in. I didn't realize when renting THE PSYCHOPATH that it was from 1973, too early to be influenced by THE TEXAS CHAIN SAW MASSACRE, let alone HALLOWEEN. It feels more like a BAD RONALD or WILLARD type of '70s-TV-looking weirdo movie, but it does have some of the slasher elements: a freaky killer, a gimmicky motive, one-dimensional victims.
It didn't take long for the movie to throw me a what-the-hell!?. The title comes up over ominous sounds and a scary closeup of an eye. The sort of thing you'd expect. But then the happy music comes on and the credits use a font similar to My Three Sons. Throughout the movie the soundtrack, credited to "Country Al Ross," alternates between very upbeat country jams and straight up funk (which I'm guessing is library music).
The titleistical psychopath is children's TV star Mr. Rabbey (Tom Basham, COLOSSUS: THE FORBIN PROJECT), who figures out some of the children from his studio audience and hospital visits are being abused, and decides to murder their parents. He bashes a woman's face in with a baseball bat, for example. (read the rest of this shit…)
VERN has been reviewing movies since 1999 and is the author of the books SEAGALOGY: A STUDY OF THE ASS-KICKING FILMS OF STEVEN SEAGAL, YIPPEE KI-YAY MOVIEGOER!: WRITINGS ON BRUCE WILLIS, BADASS CINEMA AND OTHER IMPORTANT TOPICS and NIKETOWN: A NOVEL. His horror-action novel WORM ON A HOOK will arrive later this year.