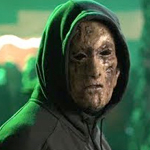 HELL FEST is a mainstream horror movie released on 2,297 screens by Lionsgate, but I never saw a trailer for it and only heard of it because Brian Collins recommended it on Twitter (he also interviewed the director). So I guess social media can still work for good old fashioned word of mouth, not just Russian disinformation campaigns.
For people who like horror but get bored of formula and cliche, this is probly nothing special. But for horror fans like me who enjoy variations on tradition, it's a surprise treat: a slick, well-made straight-ahead slasher movie with some cool ideas, production value, a solid cast, even likable characters. I honestly thought they couldn't make movies like this anymore – it seems straight from the post-SCREAM slasher revival, except without any meta stuff (other than we're having fun being scared while the characters are having fun being scared). Also, no big names in the cast. The only face I recognized besides cameo-ing Tony Todd was Bex Taylor-Klaus from Scream: The TV Series. (But maybe others would be known to me if I was younger.) (read the rest of this shit…)
VERN has been reviewing movies since 1999 and is the author of the books SEAGALOGY: A STUDY OF THE ASS-KICKING FILMS OF STEVEN SEAGAL, YIPPEE KI-YAY MOVIEGOER!: WRITINGS ON BRUCE WILLIS, BADASS CINEMA AND OTHER IMPORTANT TOPICS and NIKETOWN: A NOVEL. His horror-action novel WORM ON A HOOK will arrive later this year.