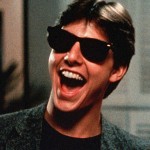 Vanilla Sky is an american remake of OPEN YOUR EYES, the second picture by the young spanish gentleman Alejandro Amenabar, who also did THESIS and THE OTHERS. After the movie I was saying to a gal that the ending was kinda different on the original, and the guy next to me was saying the same thing to his friend. Except he was just getting out of OCEAN'S 11.
Everything is fucking remakes now, huh? The above took place in Seattle, Washington, where as we speak the Dreamworks company is hard at work on an unneccesary remake of (the) RING. History has not been kind to american remakes of foreign pictures. Even when you get the same guy to remake it – like with THE VANISHING or NIGHTWATCH – the movie will piss everybody off and the director will be forgotten forever. (read the rest of this shit…)
VERN has a new action-horror novel out called WORM ON A HOOK! He has been reviewing movies since 1999 and is the author of the film criticism books Seagalogy: A Study of the Ass-Kicking Films of Steven Seagal and Yippee Ki-Yay Moviegoer!: Writings on Bruce Willis, Badass Cinema and Other Important Topics as well as the crime novel Niketown.