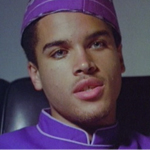 "This film is one I refused not to make." –Jamaa Fanaka
STREET WARS is a 1992 movie about drug gangs, with a rap soundtrack, but it feels more like blaxploitation than BOYZ N THE HOOD. That's because it's, as the credits say, "A Jamaa Fanaka Picture Show." That's the director best known for the PENITENTIARY trilogy, but before that he did some weird blaxploitation movies like the killer dick picture SOUL VENGEANCE, aka WELCOME HOME, BROTHER CHARLES. So here he kinda takes the themes of SUPER FLY and stirs them into early '90s black culture with some of his own weird seasonings.
It definitely falls into the outsider art type category. The awkward home-made filmatism combines with some truly strange ideas to create a surreal experience, a movie that transcends competence. The climax really doesn't work as action or drama, but it's so weird I forgave it. The shootouts are always confusing but enthusiastic. There are guns that blow soccer ball sized holes in the sides of cars, and send victims flying through the air looking suspiciously like dummies being sloppily tossed from off screen. (read the rest of this shit…)
VERN has been reviewing movies since 1999 and is the author of the books SEAGALOGY: A STUDY OF THE ASS-KICKING FILMS OF STEVEN SEAGAL, YIPPEE KI-YAY MOVIEGOER!: WRITINGS ON BRUCE WILLIS, BADASS CINEMA AND OTHER IMPORTANT TOPICS and NIKETOWN: A NOVEL. His horror-action novel WORM ON A HOOK will arrive later this year.