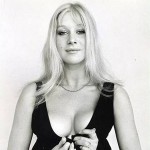 Well I don't know if any of you saw this but there was a gal in my guestbook who Wrote that I shouldn't date gals in their late teens and early 20s which I believe she said was disgusting on account of my age. Well the more teen movies I get hoodwinked into seeing by these young gals the more I agree with that sentiment. The latest is an embarassing load of shit by the name of Teaching Ms. Tingle.
Let me give you motherfuckers an analogy here. When I was in the joint there was a talent show they would do sometimes. And alot of times some dumb motherfucker would sign up, "Yeah, I'ma do some tap dancing" or "Yeah man I got a monologue you know, what you didn't know? Yeah I'm an actor bud, gotta monologue here nahmean?" (read the rest of this shit…)
VERN has been reviewing movies since 1999 and is the author of the books SEAGALOGY: A STUDY OF THE ASS-KICKING FILMS OF STEVEN SEAGAL, YIPPEE KI-YAY MOVIEGOER!: WRITINGS ON BRUCE WILLIS, BADASS CINEMA AND OTHER IMPORTANT TOPICS and NIKETOWN: A NOVEL. His horror-action novel WORM ON A HOOK will arrive later this year.