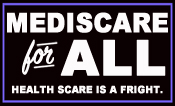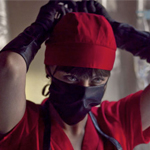 AMERICAN MARY (2012) is a unique horror movie that's arguably more of a seedy-underbelly crime movie. The protagonist, broke medical student Mary Mason (Katharine Isabelle, DISTURBING BEHAVIOR, GINGER SNAPS, CARRIE [2002], FREDDY VS. JASON), definitely follows more of a noir arc than a normal horror heroine one. She falls into a strange subculture, finds herself doing things she never could've imagined, crosses lines she shouldn't, gets deeper and deeper into trouble. And she's crazy and scary and you sort of root for her. Or at least you like her.
It's all a big accident. She's running low on tuition money and too ashamed to let her grandma give her money. Out of desperation she applies for a stripper job. The boss, Billy Barker (Antonio Cupo, A CHRISTMAS TAIL), teases her about bringing a normal resume, amused at her medical background. But when his guys interrupt the interview about something nasty going on in the basement and their usual underworld doctor is unavailable he pays her $5,000 to go down (still in her audition lingerie) and sew up some guy's slashed neck. (read the rest of this shit…)
VERN has been reviewing movies since 1999 and is the author of the books SEAGALOGY: A STUDY OF THE ASS-KICKING FILMS OF STEVEN SEAGAL, YIPPEE KI-YAY MOVIEGOER!: WRITINGS ON BRUCE WILLIS, BADASS CINEMA AND OTHER IMPORTANT TOPICS and NIKETOWN: A NOVEL. His horror-action novel WORM ON A HOOK will arrive later this year.