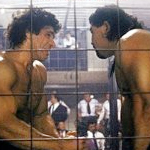 "Wrestling? I like wrestling. But I don't like fighting. But I like wrestling!"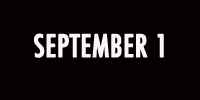 The movie CAGE is alot like the character Lou Ferrigno plays in it: brain damaged, childlike, clumsy, well-meaning, and hard not to like. The opening definitely had me concerned, though. In "VIET NAM 1969," a bunch of army dudes run around in a field screaming and firing machine guns while the keyboards of composer Michael Wetherwax (SORORITY HOUSE MASSACRE) sort of imitate the RAMBO theme. B-movies about the Vietnam War don't tend to be watchable, in my opinion, so thank God our boys get out of there quick.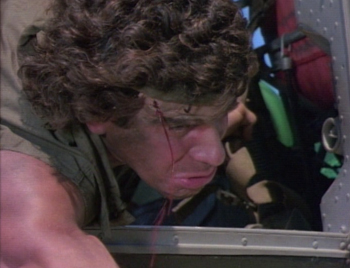 Escaping in a helicopter, Billy Thomas (Ferrigno, between his last two Incredible Hulk TV movies) heroically saves his friend Scott Monroe (Reb Brown, UNCOMMON VALOR, ten years after his last Captain America TV movie) by having the strength to one-arm-dangle him under the copter even after being shot in the head with what, judging from the leak it springs in his temple, appears to be an adorably tiny bullet.
(Good makeup effect, though.)
The opening credits are a comically corny rehabilitation montage set to a ballad called "Don't Let Go" by Jennifer Green. Without sound, Ferrigno and Brown pantomime a series of struggles and minor triumphs, from getting a medal to being frustrated with a puzzle to making it up a few steps. (read the rest of this shit…)
VERN has been reviewing movies since 1999 and is the author of the books SEAGALOGY: A STUDY OF THE ASS-KICKING FILMS OF STEVEN SEAGAL, YIPPEE KI-YAY MOVIEGOER!: WRITINGS ON BRUCE WILLIS, BADASS CINEMA AND OTHER IMPORTANT TOPICS and NIKETOWN: A NOVEL. His horror-action novel WORM ON A HOOK will arrive later this year.