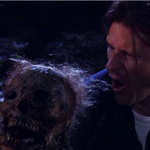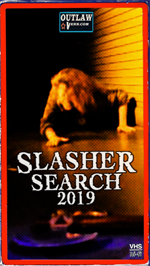 My original goal with Slasher Search was to find the '70s and '80s slasher gems that I (and maybe everybody) had been missing. That's still my hope, but as the pickings get slimmer and the years move on I might as well open it up to a movie like this – it's from 2006, but I never heard of it, and it seemed promising from the box. The premise sounded potentially fun (Crispin Glover killing campers in the woods with elaborate contraptions) and it was even by a known director, Bill Dear, the co-writer of T2.
Or that's what I was thinking, but that's William Wisher. Bill Dear is the director of HARRY AND THE HENDERSONS, IF LOOKS COULD KILL and ANGELS IN THE OUTFIELD. And in many ways this does live up to what you expect in a gory horror movie from a guy known for cheesy family movies. It's about a vanload of horny youths going on a camping trip, and they're about as broad as they come. They're all complete assholes who are trying to cheat on their girlfriends or steal their friend's boyfriends. They like to stick their junk in each others' faces and trespass and act obnoxious to the locals. It seems like there's a rule that any scene where the viewer went more than a minute without wanting to punch one of the characters in the face had to be excised. (read the rest of this shit…)
VERN has been reviewing movies since 1999 and is the author of the books SEAGALOGY: A STUDY OF THE ASS-KICKING FILMS OF STEVEN SEAGAL, YIPPEE KI-YAY MOVIEGOER!: WRITINGS ON BRUCE WILLIS, BADASS CINEMA AND OTHER IMPORTANT TOPICS and NIKETOWN: A NOVEL. His horror-action novel WORM ON A HOOK will arrive later this year.