"That damn American ninja. Fights like a tiger. We'll have to get rid of him."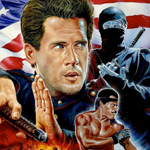 The opening credits of AMERICAN NINJA 2: THE CONFRONTATION feature a badass theme song (composer George S. Clinton, who had already done AVENGING FORCE for Cannon and Dudikoff, joins the series) as three dudes confidently cruise on their motorcycles, journeying through mountain roads. They're wearing tinted helmets, so we wonder if this is Joe Armstrong, the American Ninja, and some other Army guys? Is it some scary villains he's gonna have to face? Who is it?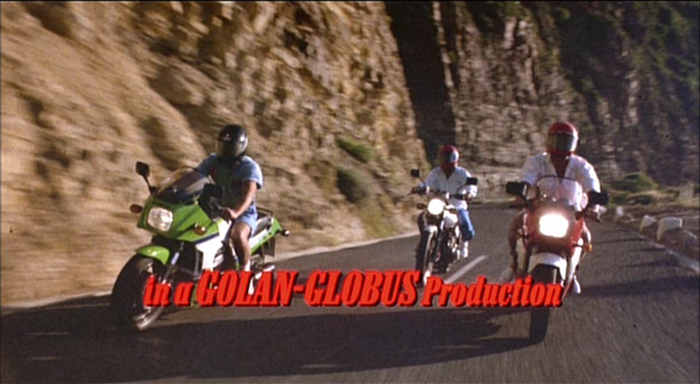 They turn out to be some weinery dudes who drive up to a bar and immediately get bullied. One of them, Tommy Taylor (Jonathan Pienaar, BLOOD DIAMOND), steps away and cowers nearby while his friends get beaten up, and then all the sudden a bunch of ninjas walk in and carry them away.
In this enjoyable sequel Joe (Michael Dudikoff) and Curtis Jackson (Steve James) are still best friends, and still in the Army, now as Rangers. They seem to receive more respect now, and maybe I'm naive but when they're sent on the mission that the last guys (the guys at the bar) disappeared on it really seems to be because of faith in their abilities, not to get rid of them. (read the rest of this shit…)
VERN has been reviewing movies since 1999 and is the author of the books SEAGALOGY: A STUDY OF THE ASS-KICKING FILMS OF STEVEN SEAGAL, YIPPEE KI-YAY MOVIEGOER!: WRITINGS ON BRUCE WILLIS, BADASS CINEMA AND OTHER IMPORTANT TOPICS and NIKETOWN: A NOVEL. His horror-action novel WORM ON A HOOK will arrive later this year.