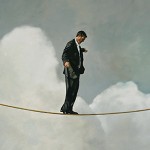 You can't compare Johnny Cash to anybody, but you can't help but compare WALK THE LINE to the movie RAY. There aren't many truly great musician biopics, if any, and they all end up being about the same shit. If you're a legendary musician it's pretty much guaranteed that you struggled for a while, got a lucky break, became a superstar, cheated on your wife, then had a drug problem that fucked up your career and relatinships for a while. Then you either died tragically or kicked the drugs. (One exception: small plane crashes.) In the case of both Ray and Johnny they kicked the drugs. But just because they didn't die young doesn't mean they had it easy. According to the movies, both had a brother who died when they were kids and were haunted by it for the rest of their lives.
Both RAY and WALK THE LINE benefit from great performances by celebrities playing other celebrities, but in the case of RAY I think without that performance you'd just have a pretty good TV movie. WALK THE LINE is a better movie even if the imitation is not quite as uncanny. (These actors did go the extra mile though and record all the songs themselves. It's weird because you know it's not the real John and June but you do know it's the same John and June you've heard talking to each other so it seems to work.) (read the rest of this shit…)
VERN has been reviewing movies since 1999 and is the author of the books SEAGALOGY: A STUDY OF THE ASS-KICKING FILMS OF STEVEN SEAGAL, YIPPEE KI-YAY MOVIEGOER!: WRITINGS ON BRUCE WILLIS, BADASS CINEMA AND OTHER IMPORTANT TOPICS and NIKETOWN: A NOVEL. His horror-action novel WORM ON A HOOK will arrive later this year.