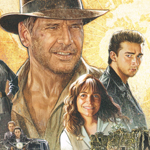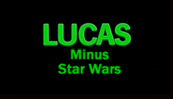 or OUTLAW VERN AND THE ENJOYMENT OF THE FORBIDDEN SEQUEL
"What exactly am I being accused of besides surviving a nuclear blast?"
INDIANA JONES AND THE KINGDOM OF THE CRYSTAL SKULL is the one movie in this Lucas Minus Star Wars survey that I actually reviewed on its original theatrical release, so you can see what I wrote about it at the time. I had already picked up on everybody hating it, but didn't realize it would become one of those movies that is only ever brought up as an example of what is wrong with George Lucas, Hollywood, America, capitalism, technology, civilization, human life, etc. When people mention it they have to spit, like Indy when he mentions Victoriano Huerta in the movie. It is a universally agreed upon milestone in the degradation of our culture and past.
Well, almost universally. I really liked it at the time, as you can see. But it's been a few years, and I honestly can't remember the last time I encountered someone who thought it was any good. Watching it now, maybe I could finally be one of them. One of the beautiful people. (read the rest of this shit…)
VERN has been reviewing movies since 1999 and is the author of the books SEAGALOGY: A STUDY OF THE ASS-KICKING FILMS OF STEVEN SEAGAL, YIPPEE KI-YAY MOVIEGOER!: WRITINGS ON BRUCE WILLIS, BADASS CINEMA AND OTHER IMPORTANT TOPICS and NIKETOWN: A NOVEL. His horror-action novel WORM ON A HOOK will arrive later this year.