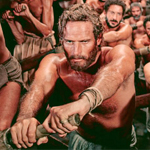 Man, can you guys believe they made that cheesy 3D remake of BEN-HUR? From the director of WANTED, of all people? Imagine the nerve of thinking they have to cgi up a Hollywood classic like BEN-HUR. Is nothing sacred? BEN-HUR won 11 Oscars including best picture. Normally we say the Oscars are bullshit but let's forget about that because in this one specific case they are totally proof that this movie is untouchable. It just really disappoints me that they can't leave well enough alone.
Admittedly I have never seen the original BEN-HUR, which is a one-reel silent film from 1907. Nor have I seen the first remake, another silent from 1925. And until now I had not seen the famous 1959 version by William Wyler. Okay, the truth is I'm excited to see the new one and I didn't want to be some asshole who went to see it but hadn't seen the old one. So I am thankful for this new remake, even if it ends up being boring, because it made me watch the most famous old remake. Turns out it's legendary for a reason. (read the rest of this shit…)
VERN has been reviewing movies since 1999 and is the author of the books SEAGALOGY: A STUDY OF THE ASS-KICKING FILMS OF STEVEN SEAGAL, YIPPEE KI-YAY MOVIEGOER!: WRITINGS ON BRUCE WILLIS, BADASS CINEMA AND OTHER IMPORTANT TOPICS and NIKETOWN: A NOVEL. His horror-action novel WORM ON A HOOK will arrive later this year.