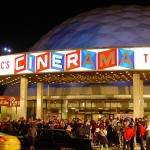 Hey folks, Harry here with Vern… he's our magical little friend from up in Seattle and he doesn't like KRULL! What sort of soulless mutherfucker doesn't dig on KRULL! KRULL is the film that introduced the GLAVE and THE GLAVE is the fucking weapon of choice in my D&D household! And the Spider sequence… the sand in the hand… Ancient bitter love… FIRESTEEDS! Oh absolutely it's got levels of funk 4 feet deep all about, but I love all sorts of crazy shit in that movie, and would love to see it in 70mm. ENVY! Ok, here's Vern, who I still like, even if he's too backwoods to get KRULL!
Boys –
Every once in a while – or once a year, I guess – Seattle's landmark Cinerama (Cinerama.Com) theater has a film festival where they show a bunch of archival 70mm prints and a couple in actual 3-projector Cinerama. And then a bunch of people watch the movies, etc.
This year some of the films shown include LAWRENCE OF ARABIA, HOW THE WEST WAS WON (in 3-strip Cinerama), THIS IS CINERAMA, OKLAHOMA and IT'S A MAD, MAD, MAD, MAD WORLD. I forgot to go to those but I saw GHOSTBUSTERS, TOTAL RECALL and KRULL instead. All in 70mm. (read the rest of this shit…)
VERN has been reviewing movies since 1999 and is the author of the books SEAGALOGY: A STUDY OF THE ASS-KICKING FILMS OF STEVEN SEAGAL, YIPPEE KI-YAY MOVIEGOER!: WRITINGS ON BRUCE WILLIS, BADASS CINEMA AND OTHER IMPORTANT TOPICS and NIKETOWN: A NOVEL. His horror-action novel WORM ON A HOOK will arrive later this year.