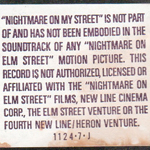 Last Halloween I did an important, should've-been-award-winning piece called Analysis: "A Nightmare On My Street" vs. "Are You Ready For Freddy?", in which I compared and contrasted the Freddy Krueger themed song by DJ Jazzy Jeff and the Fresh Prince with the one by The Fat Boys. Today I have a brief update, or sequel if you will, to that piece.
In the piece I embedded the "Are You Ready For Freddy?" video, but said there was no video for "A Nightmare On My Street." In the comments it came up that people including Jake thought they remembered seeing a video. I feel like I would remember such a video existing, but more importantly it's not on Youtube, on any of the many extras-packed DVDs and Blu-Rays of the Elm Street series, in the excellent 4-hour documentary NEVER SLEEP AGAIN, or on the DJ Jazzy Jeff and the Fresh Prince video collection.
Since then I've encountered other people who think they remember seeing it, so I looked into it again. Wikipedia says
"The song was considered for inclusion in the movie A Nightmare on Elm Street 4: The Dream Master, but the producers of the film decided against its inclusion. New Line Cinema, copyright holders of the A Nightmare on Elm Street film franchise, sued DJ Jazzy Jeff & The Fresh Prince's record label for copyright infringement, forcing the label to destroy a music video produced for the song. Both sides eventually settled out of court."
but since this section is not sourced I wondered if some of it could be an urban legend. The very specific language of the disclaimer sticker on the record supports the existence of a lawsuit or threat of one, but would they really have made a video before that happened? (read the rest of this shit…)
VERN has a new action-horror novel out called WORM ON A HOOK! He has been reviewing movies since 1999 and is the author of the film criticism books Seagalogy: A Study of the Ass-Kicking Films of Steven Seagal and Yippee Ki-Yay Moviegoer!: Writings on Bruce Willis, Badass Cinema and Other Important Topics as well as the crime novel Niketown.