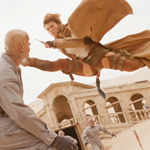 RESIDENT EVIL: EXTINCTION is part 3. It takes place five years after part 2, APOCALYPSE, and was released five years after the first film in the series. It has a different style and tone, a little more serious, a little more grounded, but still pulpy, and it really works.
The opening tricked me. It begins so much like the first film – Milla Jovovich as Alice waking up naked and confused in the mansion, putting on the red dress and boots – that I thought I might've rented the wrong one. But she explores the place and ends up in a hallway in the Hive with the lasers and booby traps and one of them shoots and… gulp… kills her. Then some guys in biohazard suits appear, take the body up to the surface and throw it in a ditch. The camera pulls out to show a whole pile of dead Alices. And by the way, they're all wearing that same outfit. I don't know if that makes sense that they would have duplicate outfits to give these clones they keep testing, but if not it's better than making sense. Nobody wants to see them wearing different outfits. (read the rest of this shit…)
VERN has been reviewing movies since 1999 and is the author of the books SEAGALOGY: A STUDY OF THE ASS-KICKING FILMS OF STEVEN SEAGAL, YIPPEE KI-YAY MOVIEGOER!: WRITINGS ON BRUCE WILLIS, BADASS CINEMA AND OTHER IMPORTANT TOPICS and NIKETOWN: A NOVEL. His horror-action novel WORM ON A HOOK will arrive later this year.