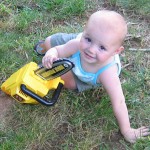 SPOILER ALERT !!
Hey, everyone. "Moriarty" here.
Honestly, I didn't even have the energy to write this one up. I am depressed by how much I disagree with Harry and anyone else who gave this a pass. This is what we're settling for now in horror? I think it's a huge mistake to demystify something as potent as Leatherface, and I think this is every bit as rotten and bankrupt as Nispel's remake a few years ago.
But why take my word for it? Here's Vern, who I trust to explain it for you:
My friends,
Against all odds, this is actually alot better than anyone could've imagined. Admittedly, a prequel seems like a bad idea, and the director has only done one movie (that even he says is bad), and he told the Fangoria horror magazine he never even saw any TEXAS CHAIN SAW MASSACRE movies before he signed on. But somehow this movie is good ol' horrory fun!
That's how my review would start if I was a lying scumbag. But I tell it like it is, so I gotta tell you, if you hated the remake like I did you should skip this one. It's the same old shit. The best compliment I can muster is "It has a couple funny lines." Or how about, "I haven't decided if it's as bad as the remake or not." That would make a good quote on the poster I think. (read the rest of this shit…)