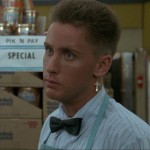 SPOILER ALERT !!
Hey, "Moriarty" here. Just wanted to drop in to present a review that made me stand up and applaud. I am not a mean man when I write about film. I don't think I take cheap shots at people. At least, I try not to. I think we all bubble over on occasion and… well…
… you remember when Vern fought and conquered the CHAOS DVD back in August?
Well, this is a better review.
Unless you are Paul Haggis. Or Emilio Estevez. Or pretty much the entire cast of BOBBY. In which case, you might want to go enjoy something over in Coax for a while, cause this… this gets ugly:
Question for you fellas:
Why is Emilio Estevez famous again? I can't think of many legitimately good movies he's in besides REPO MAN. People love their BREAKFAST CLUB, I think I liked STAKEOUT at the time, can't remember. I think now he mostly just directs TV shows, but that's not enough Gatorade to quench the artistic thirst for this guy. With his new all star ensemble BOBBY he's going serious. He's wearing two hearts, one on each sleeve, maybe even has his targets set on the Academy's notorious weakness for actors turned directors. Who knows what those chumps will fall for these days? (read the rest of this shit…)