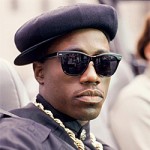 Ahoy, squirts! Quint here with everybody's favorite outlaw, Vern, a bloke that has a certain way about him… a certain quality in his written adoration of action stars and their direct-to-video adventures. I can't get enough of this guy. You tell me Steven Seagal or Van Damme or now Snipes has a new direct-to-video actioneer out I don't think I'd bother to read the whole title, but damned if I wouldn't read a 2,000 word review on it if it were written by Vern. I have a feeling that Vern's reviews (negative or positive) are better than most movies he's reviewing. Anyway, here's the man himself. Enjoy!
Dear Quint –
Or whoever's home. I got an important dispatch for you from direct-to-video land. This one is regarding one called 7 SECONDS which I only care about because it stars Wesley God Damn Snipes.
That's right, Wesley's gone DTV. This is actually his second. The first one was called UNSTOPPABLE which is a good title for a Wesley Snipes film, except in that one his character really was pretty stoppable. Or at least nobody was really trying to stop him from doing anything, as far as I could tell.
[Before I go any further, I want to say upfront that this is gonna be an essay about Wesley Snipes as much as a review of 7 SECONDS. So I don't want to see any wiseasses asking where the review is. But I probaly will.] (read the rest of this shit…)