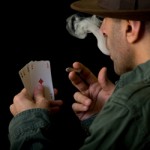 SPOILER ALERT !!
Hey, everyone. "Moriarty" here.
Carnahan fans have been waiting a while now for his follow-up to NARC, and it seems crazy that it's almost here.
If you're a fan, you might want to hop over to CHUD, where Devin Faraci has been fielding questions that Carnahan's been answering on his very own blog.
In the meantime, let's see what our own Vern has to say about this film that I'm eagerly looking forward to:
You know what this movie is, it's a remake of BOBBY. Almost the whole movie takes place in and around this hotel. And you got your huge all-star cast of characters with their various intersecting stories going on. But instead of them all living their lives and making corny speeches not knowing Bobby Kennedy is about to be assassinated, they are all trying to sneak into the hotel to kill Jeremy Piven. And instead of tons of stock footage of Kennedy speeches there is all kinds of fighting and guns. So it's a reflection of our times. Or a very loose remake. A reimagining. (read the rest of this shit…)