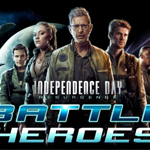 a.k.a. ID4-2:RSRG1of3
In case you skipped my INDEPENDENCE DAY review last week: For me, a connoisseur of the summer blockbuster, its release twenty years ago was a dark time. It was one of the earliest cases of the widespread "It's not supposed to be Shakespeare!" defense in the internet age, and one of the first times I felt wildly out of step with the popular opinion on a movie like that. I already thought JURASSIC PARK was no JAWS but here people were forgetting that a blockbuster movie of that quality had come out just a few summers earlier. Apparently these expensive studio sci-fi romps could only be idiotic and painfully unfunny and if I couldn't jump up and down hooting and hollering about any dumb bullshit that they decided to put on screens then I was the asshole.
20 years later I'm softer on it. I still think it sucks, but it's a funny sucks. And I've been able to laugh through other equally terrible (though never as societally elevated) Roland Emmerich pictures including 2012. As long as we're talking about him as a back-up Rob Cohen, not what we have now instead of James Cameron or George Lucas, I can appreciate him. (read the rest of this shit…)
VERN has a new action-horror novel out called WORM ON A HOOK! He has been reviewing movies since 1999 and is the author of the film criticism books Seagalogy: A Study of the Ass-Kicking Films of Steven Seagal and Yippee Ki-Yay Moviegoer!: Writings on Bruce Willis, Badass Cinema and Other Important Topics as well as the crime novel Niketown.