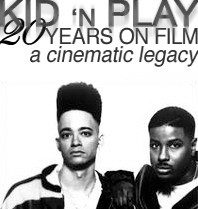 HOUSE PARTY 2 has that typical sequel problem: holy shit, the first time we were just doing what we wanted to do, now we gotta live up to people's expectations. So in the beginning they kinda redo the beginning of the first one. It's another fog machined dream of people dancing, but this time they got recent Academy Award winner Whoopi Goldberg to do a cameo as an evil professor. And there's lightning and stuff. Spooky.
They also had a less typical sequel problem: holy shit, the best part of part 1 died right after it came out. So they dedicate the movie to Robin Harris, have Kid say a little prayer to Pop, have photos of him around that sometimes come to life in brief clips from part 1. At the very beginning of the movie Kid says, "About that party – you were right to whoop my ass," referring to the beating he was about to get as the credits rolled. Weird that that's what his mind jumps to when he remembers his dad. Only way I can explain it is either Kid knows he's in a movie about that house party, or Pop died while administering that beating.
(read the rest of this shit…)
VERN has been reviewing movies since 1999 and is the author of the books SEAGALOGY: A STUDY OF THE ASS-KICKING FILMS OF STEVEN SEAGAL, YIPPEE KI-YAY MOVIEGOER!: WRITINGS ON BRUCE WILLIS, BADASS CINEMA AND OTHER IMPORTANT TOPICS and NIKETOWN: A NOVEL. His horror-action novel WORM ON A HOOK will arrive later this year.