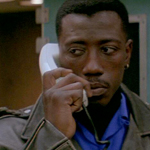 I have to thank you guys, because I only watched this because it was rated #1 in the suggestions, and I figured I owed it to everybody to do something with those. This is the third time I've seen PASSENGER 57, but the first time I properly appreciated it. I always saw it as a pretty eventless poor man's DIE HARD with one great line for the trailer, but now I can respect it as a solid, no-frills tribute to the abilities of Wesley Snipes. I mean, it's no BLADE obviously, but it's better than ART OF WAR 1-2.
First we meet our poor man's Hans Grueber, though: Bruce Payne as the infamous airplane bomber Charles "Rane of Terror" Rane. He's escaped capture by repeatedly getting plastic surgery, just like Parker between his first two books, or Michael Knight's evil cousin Garth. When we first meet Rane he's about to do go under the knife, and for security reasons he insists on no anesthetic. (Let me tell you man, that's no way to live.) But then he realizes the FBI is on to him, so he makes a run for it and fails.
(read the rest of this shit…)
VERN has been reviewing movies since 1999 and is the author of the books SEAGALOGY: A STUDY OF THE ASS-KICKING FILMS OF STEVEN SEAGAL, YIPPEE KI-YAY MOVIEGOER!: WRITINGS ON BRUCE WILLIS, BADASS CINEMA AND OTHER IMPORTANT TOPICS and NIKETOWN: A NOVEL. His horror-action novel WORM ON A HOOK will arrive later this year.