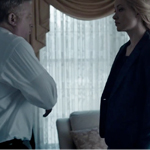 A month or two ago I saw a comedy called BOOKSMART, directed by Olivia Wilde, who I just knew as an actress from TRON: LEGACY. BOOKSMART is about two really smart, funny girls obsessed with good grades and good colleges who, on the night before graduation, try to go to a party. It's similar to SUPERBAD in both laugh ratio and sweet emphasis on friendship, and it even stars Jonah Hill's hilarious sister Beanie Feldstein (LADY BIRD), along with Kaitlyn Dever, who played Loretta on Justified. I really enjoyed these two characters, plus the score by Dan the Automator, and highly recommend the movie, but it's the kind of thing I don't really know how to write about. I don't know how to get much mileage out of trying to explain why I think something is funny. So I just tweeted about it and left it at that, until this very paragraph.
But the same week BOOKSMART came out there was a much less jolly movie released on video starring Wilde, written and directed by first-timer Sarah Dagger-Nickson. This one is called A VIGILANTE, and she's literally playing a vigilante. It's an arty movie that played South by Southwest in 2018, and the title could maybe be an homage to Jacques Audiard's A PROPHET, because that seems like sort of the category of movie they'd like to be in. But at the beginning there were logos for Emmett-Furla Productions, Saban, and Moviepass. So yeah, obviously this one I know how to write about. (read the rest of this shit…)
VERN has a new action-horror novel out called WORM ON A HOOK! He has been reviewing movies since 1999 and is the author of the film criticism books Seagalogy: A Study of the Ass-Kicking Films of Steven Seagal and Yippee Ki-Yay Moviegoer!: Writings on Bruce Willis, Badass Cinema and Other Important Topics as well as the crime novel Niketown.