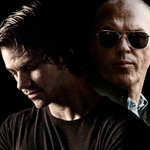 The trailers for AMERICAN ASSASSIN had me confused. Here is this mainstream, slick and expensive looking movie, Michael Keaton is in it, they're advertising it before respectable movies. And then the plot is that a guy's fiancee is killed in a terrorist attack, so he trains himself into a super-duper-badass warrior and master of covert ops and goes on a personal mission undercover into the terrorist cell to get revenge on the motherfuckers. That sounds exactly like a movie I would watch if it starred Scott Adkins or Jason Statham or The Rock or somebody. But this just stars some guy. Some actor.
Well it's on video now so I had to find out the deal. Turns out the actor is Dylan O'Brien and additionally it turns out that Dylan O'Brien is the guy that starred in those movies THE MAZE RUNNER that somebody has probly watched at some point. Also it turns out that there is still a serious TV show based on TEEN WOLF and the show has Teen Wolf's wacky buddy Stiles in it and Dylan O'Brien plays this Stiles. We are learning alot here today in my opinion. (read the rest of this shit…)
VERN has a new action-horror novel out called WORM ON A HOOK! He has been reviewing movies since 1999 and is the author of the film criticism books Seagalogy: A Study of the Ass-Kicking Films of Steven Seagal and Yippee Ki-Yay Moviegoer!: Writings on Bruce Willis, Badass Cinema and Other Important Topics as well as the crime novel Niketown.