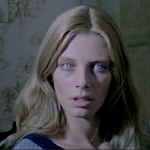 (warning: contains spoilers about all the best gory parts)
I haven't seen enough of them to really know for sure, but I get the feeling THE BEYOND may be the masterpiece of unpredictable Italian horror sometimes master Lucio Fulci. It's a simple, meandering haunted house type of story but with powerfully strange imagery and extravagantly staged incidents of jarringly brutal violence against rubber dummies.
Liza (Catriona MacColl, HAWK THE SLAYER, AFRAID OF THE DARK) is a New York fashion designer (with British accent) who inherits a small inn in Louisiana. It's been closed for a long time and the basement is flooded, but she wants to get it running again. One important piece of information that has been kept from her: a dude was crucified in the basement in 1927 and renovating the place will open one of the Seven Doors of Death. And you know that song "Who Let the Dogs Out?", well it will be exactly like that but even more horrifying because it will be who let the dead out to wander the earth and eat people's faces off and crazy shit. I'm against it. (read the rest of this shit…)
VERN has been reviewing movies since 1999 and is the author of the books SEAGALOGY: A STUDY OF THE ASS-KICKING FILMS OF STEVEN SEAGAL, YIPPEE KI-YAY MOVIEGOER!: WRITINGS ON BRUCE WILLIS, BADASS CINEMA AND OTHER IMPORTANT TOPICS and NIKETOWN: A NOVEL. His horror-action novel WORM ON A HOOK will arrive later this year.