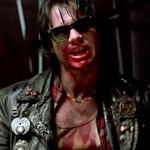 NEAR DARK is what happens when young, hungry Kathryn Bigelow comes off of co-directing the arty biker movie THE LOVELESS and teams up with the writer of THE HITCHER to do horror movies. She and Eric Red sat down and wrote two scripts together, one for each to direct. A producer says on the making-of featurette that he trusted her to direct, then admits he told her up front that she had three days to convince him not to fire her.
Man, firing her would've been a huge fuck up! It's definitely a cool scenario they came up with, but the primary appeal of the movie is Bigelow's style, mood, attitude. I suppose the alternate timeline scab that took over would've at least had the great cast she put together. Yes, three of them (Lance Henriksen, Bill Paxton and Jenette Goldstein) had already been together in ALIENS (a movie that exists in some form within the NEAR DARK universe, unless the "ALIEN5" we see on a marquee meant PROMETHEUS). Bigelow correctly guessed that they'd not only be perfect for the characters, but would carry over a chemistry and familiarity that would work well as this outlaw family. Reportedly she hired them all separately and all were worried about the perception of following ALIENS with a low budget vampire movie. But they knew what they were doing. They chose right. (read the rest of this shit…)
VERN has a new action-horror novel out called WORM ON A HOOK! He has been reviewing movies since 1999 and is the author of the film criticism books Seagalogy: A Study of the Ass-Kicking Films of Steven Seagal and Yippee Ki-Yay Moviegoer!: Writings on Bruce Willis, Badass Cinema and Other Important Topics as well as the crime novel Niketown.