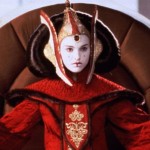 V FOR VENDETTA is a big exciting futuristic comic book movie, produced and written by the Wachowskis, starring Hugo Weaving and Natalie Portman, playing in Imax in some towns, but not here. It's a movie nerds are pretty excited for, but the talk is less about is he wearing the right cape, are his powers depicted in exactly the way I personally imagined them, etc., and more about the politics. Because although it features a guy in a cape and mask who fights bad guys in dark alleys, the story is more of a 1984 type deal than a spiderman. Apparently the comic strip book was written in England in the 1980s in response to the Margaret Thatcher administration.
I saw a review in Entertainment Weekly that talked about references to Bush and Bill O'Reilly and Abu Ghraib and what not, but I figure this is more like STAR WARS prequels: it's about all the assholes throughout history, and the leaders we have now just so happen to be members. It's like I always say, if your government is strikingly similar to the dystopian sci-fi stories of the past then you got a problem there, in my opinion. (read the rest of this shit…)
VERN has been reviewing movies since 1999 and is the author of the books SEAGALOGY: A STUDY OF THE ASS-KICKING FILMS OF STEVEN SEAGAL, YIPPEE KI-YAY MOVIEGOER!: WRITINGS ON BRUCE WILLIS, BADASS CINEMA AND OTHER IMPORTANT TOPICS and NIKETOWN: A NOVEL. His horror-action novel WORM ON A HOOK will arrive later this year.