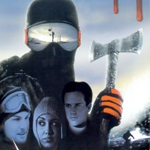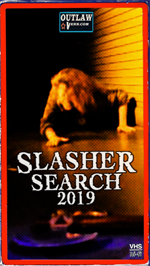 SHREDDER is a snowboarding-themed slasher movie that I never heard of until now, but apparently somebody had, because RoninFlix put it out on blu-ray with a nice painted cover by Devon Whitehead (designer of many fine t-shirts from Fright Rags and Cavity Colors). It's from 2001 (shelved until 2003 in the U.S.), but seems late-'80s in its "we know this is dumb, but we'll take it seriously because that's more fun" spirit. It's clearly not made by a studio, and shows very little of the SCREAM-inspired postmodern attitude of its actual era.
It's about a mysterious skier (disguised only by normal ski gear) who murders snowboarders who trespass in a closed pass where a fatal accident once happened. Like my other recent 2003 Slasher Search entry, SIMON SAYS, it has a vanload of young people on a trip, slathering the screen with unadulterated obnoxiousness. The stuck up/aggressive girl is trip-arranger Kimberly Van Arx (Lindsey McKeon, Saved by the Bell: The New Class), whose rich dad is buying the resort, and has a quick trigger finger when it comes to asserting "do you know who I am!?" privileges. Her boyfriend Cole (Scott Weinger) seems kind of square and has a has kind of a Steve-on-90210 older-out-of-place-guy vibe. I was excited to learn that he's the guy who did the voice of Disney's Aladdin! (read the rest of this shit…)
VERN has been reviewing movies since 1999 and is the author of the books SEAGALOGY: A STUDY OF THE ASS-KICKING FILMS OF STEVEN SEAGAL, YIPPEE KI-YAY MOVIEGOER!: WRITINGS ON BRUCE WILLIS, BADASS CINEMA AND OTHER IMPORTANT TOPICS and NIKETOWN: A NOVEL. His horror-action novel WORM ON A HOOK will arrive later this year.