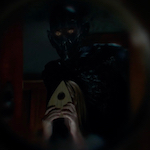 This is a rare event for me, to watch a prequel to a movie I haven't seen and don't plan to see. The original OUIJA from 2014 was a PG-13 horror movie co-produced by ghost-merchants Blumhouse and remakers Platinum Dunes, "based on Ouija by Hasbro." It's the same writers as KNOWING, which could be a plus, but I didn't know that until just now. So it didn't seem like a movie for me, and nobody told me otherwise.
But two years later I remember seeing the trailer for the prequel before some other horror movie and talking with my friend about it actually looking good. It's a period piece set in 1967, with a real nice look to it courtesy of cinematographer Michael Fimognari (FAST COLOR) and this time it's directed by Mike Flanagan – I'm not sure if I'd seen anything by him yet, but I'd heard good things about OCULUS. And since then I've seen ABSENTIA, HUSH and GERALD'S GAME – all quite good – and the 2018 made-for-Netflix series The Haunting of Hill House convinced me that he is a legit Master of Horror for our age, even before he knocked my socks off with DOCTOR SLEEP. So it's cool to go back and catch up on this one and realize how much of a rough draft it was for Hill House (even more than ABSENTIA). It's got the scary old house (smaller and suburban, though), the psychic gift passed through generations, the themes of trauma and loss, the period detail, and of course the freaky ass Mike Flanagan ghosts. (Flanaghosts?) (read the rest of this shit…)
VERN has a new action-horror novel out called WORM ON A HOOK! He has been reviewing movies since 1999 and is the author of the film criticism books Seagalogy: A Study of the Ass-Kicking Films of Steven Seagal and Yippee Ki-Yay Moviegoer!: Writings on Bruce Willis, Badass Cinema and Other Important Topics as well as the crime novel Niketown.