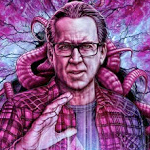 COLOR OF OUTER SPACE is last year's comeback film for Richard Stanley, known for not directing THE ISLAND OF DR. MOREAU. Working on a lower budget with the cool production company SpectreVision (MANDY, A GIRL WALKS HOME ALONE AT NIGHT) he was able this time to successfully achieve his weird literary adaptation dreams without ever having to hide out in a rain forest disguised as a dog man.
This one's based on H.P. Lovecraft's "The Colour Out of Space," originally published in a 1927 issue of Amazing Stories, and it opens with a young woman in a cape with a white horse performing an occult ritual. Nice trick – I assumed it was a prologue in the faraway past, but it's the modern day, and she's just a weirdo. She's Lavinia Gardner (Madeleine Arthur, BIG EYES), daughter of Nathan (Nic Cage, known for not starring in SUPERMAN LIVES) and Theresa (Joely Richardson, MAGGIE), who have recently moved from "the big city" (as all normal humans call their home town) to an isolated farm in Arkham, Massachusetts. They're kind of trying to live Off the Grid, so they get their water from a well, don't have reliable wi-fi, and are raising alpacas, "the animal of the future" according to Dad. (read the rest of this shit…)
VERN has a new action-horror novel out called WORM ON A HOOK! He has been reviewing movies since 1999 and is the author of the film criticism books Seagalogy: A Study of the Ass-Kicking Films of Steven Seagal and Yippee Ki-Yay Moviegoer!: Writings on Bruce Willis, Badass Cinema and Other Important Topics as well as the crime novel Niketown.