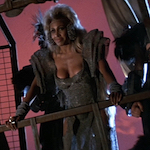 I am a devotee of MAD MAX BEYOND THUNDERDOME. Obviously I love the whole series, some of them even more than this one, but there are many special qualities particular to this installment. I wrote about the movie in 2007 and I think that review does the job of describing many of the reasons it's great. But I really felt like I needed to revisit it both in the context of the Summer of 1985 movie season, and as a movie to watch in 2020, so that's what I'll do in this supplemental review.
July 10, 1985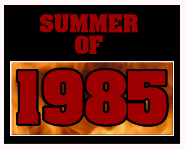 Like all of George Miller's work, THUNDERDOME boldly stands out from other films of its era. Though RAMBO: FIRST BLOOD PART II was the action movie causing the biggest stir at the time, it didn't have anything approaching the inventiveness or filmmaking prowess of the Thunderdome duel or the train-track chase. And yet I don't even think of THUNDERDOME primarily for it's action – it's more like a fantasy film – and in a season that includes RETURN TO OZ and WARRIORS OF THE WIND, it still might be the most imaginative movie of the summer, the most detailed fictional world, the most evocative mythmaking.
It's very much an Australian production, and a continuation of Miller's previous films. The stunt coordinator is the legendary Australian stuntman Grant Page, who we also know from his parts in THE MAN FROM HONG KONG, DEATH CHEATERS, STUNT ROCK and ROAD GAMES. Cinematographer Dean Semler, co-writer Terry Hayes, art director Graham "Grace" Walker (now production designer) and costume designer Norma Moriceau, among others, returned from THE ROAD WARRIOR. But in the four years between MAXes, Miller had some dalliances with Hollywood, and THUNDERDOME does seem aware of its place in a blockbuster landscape largely shaped by fellow TWILIGHT ZONE: THE MOVIE segment director Steven Spielberg and friends. According to the Mad Max wiki, "on one wall [of the Bartertown set], there's a picture of a Gremlin. Not far away, the feed and grain store has a few words painted over its front entrance – 'Proprietor: E.T. Spielberg'." (read the rest of this shit…)
VERN has a new action-horror novel out called WORM ON A HOOK! He has been reviewing movies since 1999 and is the author of the film criticism books Seagalogy: A Study of the Ass-Kicking Films of Steven Seagal and Yippee Ki-Yay Moviegoer!: Writings on Bruce Willis, Badass Cinema and Other Important Topics as well as the crime novel Niketown.