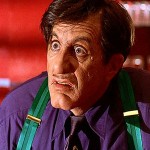 Shit man, there's no other movie like SCARFACE, is there? Even the original SCARFACE, I bet, is nothing like SCARFACE. We got several high quality American gangster epics, but they're always about gangsters of the Italian American persuasion and usually in New York, New Jersey or Las Vegas or somewhere. This one feels so unique because it's about Cuban-Americans and it takes place in Miami. It has a real strong sense of place. Its wicked heart pumps the tainted blood of that godforsaken Floridian peninsula, even though they got chased out of there and had to film most of the movie on neutral territory in L.A.
This is the perfect exaggerated painting of the 1980s and the cocaine wars. The good old days. And it even makes you root for this psychotic egomaniac shithead, Tony Montana (Al Pacino [Scarface]). 'Cause first you see him as an immigrant getting hassled by the man, working as a dishwasher and tough talking his way into bigger work, dropping off some money for some cocaine. His higher ups (small time hoods themselves) don't believe in him. But when the dealers pull a cross on Tony and his friends and it turns into an insane bloodbath (literally, come to think of it, because alot of the mayhem takes place in the shower), all involved must admit that he handles it with, uh, flair. He leaves with the money and the yayo (a term now popular because of the movie), tells the middlemen to fuck off and brings it all straight to the area boss, who is very impressed. This is typical of his quick rise up the totem pole. Initiative, elbow grease, bootstraps, etc. (read the rest of this shit…)
VERN has a new action-horror novel out called WORM ON A HOOK! He has been reviewing movies since 1999 and is the author of the film criticism books Seagalogy: A Study of the Ass-Kicking Films of Steven Seagal and Yippee Ki-Yay Moviegoer!: Writings on Bruce Willis, Badass Cinema and Other Important Topics as well as the crime novel Niketown.