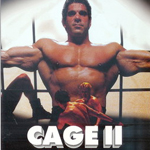 One of many underground fighting movies I took a look at in my action movies of summer '89 retrospective was CAGE, a cheapie starring Lou Ferrigno and Reb Brown as Billy and Scott, two Vietnam buddies forced into a cage fighting circuit. It was enjoyable for its cast, its warm-hearted tribute to friendship, and even its naive-feeling sincerity about the uncomfortable premise that Billy acts like a child because of a brain injury. And I got even more entertainment reading about director Lang Elliott's later business ventures, including taking over a smoothie chain in a failed attempt to produce a Dorf feature film and build a theme park.
In 1994 Elliott returned with a sequel, so far his final directorial work. CAGE II (subtitled THE ARENA OF DEATH on the VHS packaging) reintroduces Billy and Scott while they're out grocery shopping. Their negotiations about whether or not Billy is allowed to buy a blue soft drink are intercut with ominous shots of a gang of long haired bad guys in sunglasses and black trenchcoats walking toward the store. And it lays it on thick how much innocence this evil is about to collide with. Billy and Scott smile at a little boy. Two women invite Scott to a party. Before that, while they're giving him the eye, two smiling children skip by, holding hands! (read the rest of this shit…)
VERN has a new action-horror novel out called WORM ON A HOOK! He has been reviewing movies since 1999 and is the author of the film criticism books Seagalogy: A Study of the Ass-Kicking Films of Steven Seagal and Yippee Ki-Yay Moviegoer!: Writings on Bruce Willis, Badass Cinema and Other Important Topics as well as the crime novel Niketown.