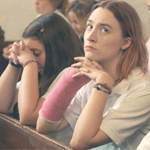 Of all the stories we tell over and over, "coming of age" might be the most universal. I don't care who you are, as long as you live to be a certain age, at some point you're gonna come of some of that age. And when you see some fictional (or, let's be honest, usually semi-autobiographical) character's age coming of you can compare and contrast to your experiences. You see echoes of your own life, revive emotions that were so potent at the time, now faded, learn about other people who had it different. So I have not specifically experienced being a girl in a private school in Sacramento in the oughts, and I definitely have no personal understanding of how it feels to be someone who could identify a song as Dave Mathews and have an emotional response to it that involves embarrassment, nostalgia and personal meaning*, but I can also see those things on screen and have them feel familiar and real and relatable.
(*I did see him in public one time and I could tell he was famous by the women who started gathering around him but I had to ask somebody else who he was) (read the rest of this shit…)
VERN has a new action-horror novel out called WORM ON A HOOK! He has been reviewing movies since 1999 and is the author of the film criticism books Seagalogy: A Study of the Ass-Kicking Films of Steven Seagal and Yippee Ki-Yay Moviegoer!: Writings on Bruce Willis, Badass Cinema and Other Important Topics as well as the crime novel Niketown.