June 26, 1998
Look, I don't want to brag, but in 1998 I was twenty years younger than I am now. I had the youth. The vigor. The open-mindedness and enthusiasm for things that seemed new and different. I had less of the anger toward people who get on lawns – if I had had a lawn I would've invited the youths to hang out on it and talk about youth stuff like did you know Lauryn Hill is doing a solo album or what is up with these Furbies or have you heard about this new WB show coming out in the fall they're calling it "Ally McBeal in college" I don't think I'll watch it but it's something I read about.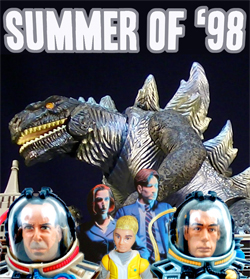 What I'm trying to do here is establish why it's a good thing that in 1998 BUFFALO '66 seemed like a great movie. I mean, I haven't entirely turned my back on it. It's still interesting. It has many positive qualities. But I definitely question it more now.

It's easy to see what was appealing in that moment. Star/director/co-writer/composer Vincent Gallo plays Billy Brown, a just-released convict who looks like he inspired half the dudes who were in American Apparel ads (I mean, look at that striped muscle shirt). With cinematographer Lance Acord (first feature for the music video d.p.) he shoots scuzzy locations that seem like the stale refuse of the '60s and '70s: cracked parking lots, a bowling alley, a motel, a tiny house decorated in Buffalo Bills memorabilia. Chic, magazine ad ugly. I'm actually kind of surprised it's not in black and white, but the muted color palette is one of its most striking features. (read the rest of this shit…)
VERN has a new action-horror novel out called WORM ON A HOOK! He has been reviewing movies since 1999 and is the author of the film criticism books Seagalogy: A Study of the Ass-Kicking Films of Steven Seagal and Yippee Ki-Yay Moviegoer!: Writings on Bruce Willis, Badass Cinema and Other Important Topics as well as the crime novel Niketown.