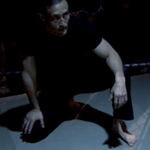 Writer/director/actor/martial artist Jino Kang's first film BLADE WARRIOR had a bit of an EL MARIACHI passionate-no-budget-debut energy to it. It was shot over a few years and bridged the independent film world's switch from film to digital. (I like the grainy film look better, but of course we're not gonna see much of that anymore.)
His second film FIST 2 FIST (the distributor changed it from his preferred title HAND 2 HAND, which was meant to have a double meaning) was released a decade later, in 2011. It looks a little more slick and professional and normal, but he still feels like an underdog filmmaker, and with age he's become an even more interesting leading man.
There's little flash or ego to Kang's persona playing Ken, a former criminal turned martial arts instructor for at risk youth. He's the serious, responsible, grownup badass, the positive role model of asskicking. (read the rest of this shit…)
VERN has been reviewing movies since 1999 and is the author of the books SEAGALOGY: A STUDY OF THE ASS-KICKING FILMS OF STEVEN SEAGAL, YIPPEE KI-YAY MOVIEGOER!: WRITINGS ON BRUCE WILLIS, BADASS CINEMA AND OTHER IMPORTANT TOPICS and NIKETOWN: A NOVEL. His horror-action novel WORM ON A HOOK will arrive later this year.