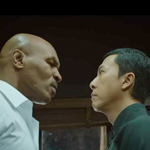 I've watched and enjoyed all the movies made about Ip Man so far, but IP MAN 3 is the first one I've seen on the big screen. A really big screen at a multiplex with only four other people in the audience. I feel like I should send AMC a thank you card.
After three years Donnie Yen returns to what has become one of his greatest roles, the real life Wing Chun grandmaster Ip Man, most famous here as a guy who taught Bruce Lee. Director Wilson Yip (SPL/KILL ZONE) and writer Edmond Wong (DRAGON TIGER GATE) also return, but the great fight choreographer Sammo Hung has been replaced by the also great Yuen Woo Ping. The weird thing about that is that Yuen did Wong Kar Wai's rival Ip Man movie THE GRANDMASTER.
Part 2 took place in the early '50s, with Ip Man and his family moving to Hong Kong, where he set up a Wing Chun school. Now it's '59 and he's still living humbly in a small apartment with his wife (still played by Lynn Hung) and youngest son. We don't really see him teaching anymore but apparently he is because he still has all his fiercely loyal disciples, and he's getting into trouble with the wife and the kid's school (math and reading type school, not fighting) for always working too late.
Once again this story involves a public challenge by another martial arts teacher trying to prove superiority over the local legend. This time it's not a different style against Wing Chun, it's a guy saying that he has pure Wing Chun and Ip Man is peddling some bullshit watered down autotune Wing Chun. This guy shouldn't be fuckin with Ip Man, but he's a sympathetic enough character that I didn't initially realize he was gonna be the antagonist. (read the rest of this shit…)
VERN has been reviewing movies since 1999 and is the author of the books SEAGALOGY: A STUDY OF THE ASS-KICKING FILMS OF STEVEN SEAGAL, YIPPEE KI-YAY MOVIEGOER!: WRITINGS ON BRUCE WILLIS, BADASS CINEMA AND OTHER IMPORTANT TOPICS and NIKETOWN: A NOVEL. His horror-action novel WORM ON A HOOK will arrive later this year.