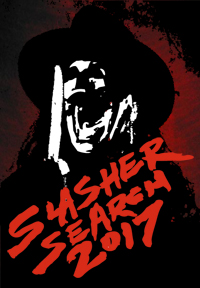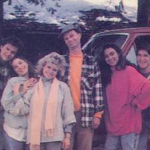 From the cover, THE AMERICAN SCREAM (not to be confused with the documentary about people who make haunted houses) looks like a straight up comedy. It does indeed have some goofy performances, '80s-teen-sex-comedy style jokes and what seems like a loose, sloppy swing at some kind of mild satire, but I believe it's genuinely trying to be scary too. I don't think it's successful at any of those things, but it has kind of a likable vibe to it that made me at least not hate it.
It's about a suburban family, the Benzigers, but playing off the phrase "The American Dream" for the title is kind of an odd fit. It's about them taking a vacation to some small, snowy mountain town around Christmas time. The parents, Barbara (Jennifer Darling) and Ben (Pons Maar) are goofy comedic characters, because the actors playing them are a couple of hams. Darling is primarily a voice actor (The Dukes, Poochie, Centurions, New Kids on the Block, the computer in DEMOLITION MAN, etc.) and Maar is kind of the opposite – a puppeteer and costume performer (he played Saurod the snake-man in MASTERS OF THE UNIVERSE, the lead Wheeler in RETURN TO OZ, best friend Roy on Dinosaurs, and the title dino in THEODORE REX).

VERN has been reviewing movies since 1999 and is the author of the books SEAGALOGY: A STUDY OF THE ASS-KICKING FILMS OF STEVEN SEAGAL, YIPPEE KI-YAY MOVIEGOER!: WRITINGS ON BRUCE WILLIS, BADASS CINEMA AND OTHER IMPORTANT TOPICS and NIKETOWN: A NOVEL. His horror-action novel WORM ON A HOOK will arrive later this year.