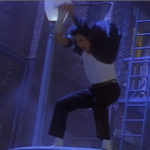 Happy Michael Jackson's birthday, everybody! What did you get me? I got you this thorough illustrated analysis of the "Black or White" video from the album Dangerous!
The "Black or White" music video is the sort of weird, messy, well-meaning, overreaching, and fun piece of mainstream art that only the lightning rod known as Michael Jackson could've attracted. It was directed by John Landis (who had already done "Thriller," of course) and shot by Mac Ahlberg (TRANCERS, GHOULIES, RE-ANIMATOR, FROM BEYOND, STRIKING DISTANCE). Like "Thriller" it was a short film (11 minutes in its longest version), and its first broadcast (November 14th, 1991 simultaneously on MTV, VH1, BET and Fox) was a heavily hyped event. It was a Thursday night, playing right after The Simpsons on Fox (specifically, the soapbox derby episode "Saturdays of Thunder"), and receiving that network's highest ever ratings at that time.
It had celebrity cameos (including The Simpsons), groundbreaking special effects, meta elements, and (still puzzling to this day) controversy that caused (or was the excuse for) the best part to be removed for subsequent broadcasts. While Michael sang and danced and visually symbolized in earnest about the lack of racial barriers in eligibility to be his "baby" or his "brother," it became common to joke about not being able to tell if he was black or white due to his vitiligo-lightened skin. Most of the world could accept that "it don't matter if you're black or white" in theory, but that was not gonna stop them from making judgments about Michael's racial identity.
Like the feature length MOONWALKER, this mini-movie is a jumbled mix-tape of stylistically clashing segments. For convenience I will break it down into four main sections. (read the rest of this shit…)
VERN has been reviewing movies since 1999 and is the author of the books SEAGALOGY: A STUDY OF THE ASS-KICKING FILMS OF STEVEN SEAGAL, YIPPEE KI-YAY MOVIEGOER!: WRITINGS ON BRUCE WILLIS, BADASS CINEMA AND OTHER IMPORTANT TOPICS and NIKETOWN: A NOVEL. His horror-action novel WORM ON A HOOK will arrive later this year.